Announce 5G patent sovereignty! Does Huawei charge 5G patent fees to promote the healthy development of the industry?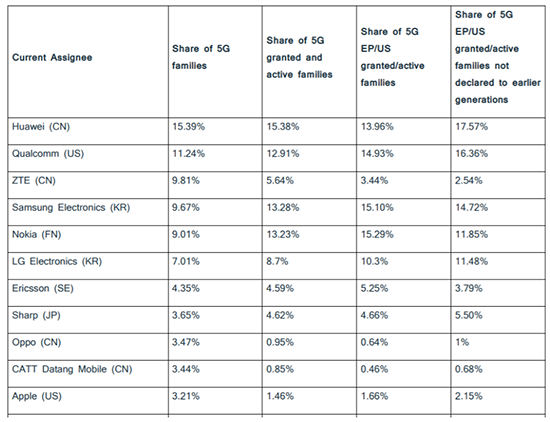 Recently, IPLytics, a well-known German patent data company, released a new "Who is leading the 5G patent race" report. According to the relevant statistics of IPLytics in this report, Huawei currently holds patents related to 5G technology. Already ranked first in the world, from the perspective of 5G patent distribution, Huawei has 15.4% of the proportion and currently has a huge leading advantage. Samsung, Nokia and Qualcomm are not far behind, ranking 2nd to 4th, and their proportions are all around 13%. And ZTE, also from China, owns 5.6% of 5G patents. This ranking of the proportion of 5G patents as of February 2021 will have a longer timeliness in the future.
On March 16, Huawei announced in Shenzhen that it would start levying 5G patent fees: each mobile phone is capped at US$2.5. Huawei expects patent licensing fees from 2019 to 2021 to be US$1.2-1.3 billion.
According to public information, Nokia announced the charging standard in August 2018. A fixed single-unit license fee does not exceed 3 euros per mobile phone.
Ericsson announced the standard in March 2017, a fixed single-unit license fee of US$2.5 to US$5 per mobile phone.
Qualcomm announced the standard in November 2017. The patent licensing fee for single-mode 5G mobile phones is 2.275% of the net price of the mobile phone; the single-mode 5G mobile phone of the 5G mobile phone that uses the core patents of Qualcomm's mobile network standard + non-core patents is integrated 4%. The patent licensing rate for multi-mode 3G/4G/5G mobile phones is 3.25%. At the same time, the 5G mobile phone multi-mode 5G mobile phone that uses Qualcomm's mobile network standard core patent + non-core patent is charged at 5%. The net price of a capped phone for which Qualcomm charges a patent fee is US$400.
Qualcomm's patent fee is very high, 2% to 5% of the price of the whole mobile phone. Huawei charges very low and charges very late. Ding Jianxin, head of Huawei's Intellectual Property Department, told the media that Huawei as an important technical contributor to the 5G standard, we follows the FRAND principle and hopes that the information which we provide today can provide transparent cost expectations for implementers of 5G technology and increase the certainty of investment, then promote the popularization of 5G technology.
Shenzhen vip circuit China PCB manufacturer.